An efficient HVAC system is crucial for any business. If you're facing HVAC issues and don't schedule repairs right away, it can lead to more damage and expenses. Your local Taunton, MA, and the nearby vicinity commercial HVAC service company, RCL Mechanical, takes pride in providing the ultimate temperature control and comfort no matter the season.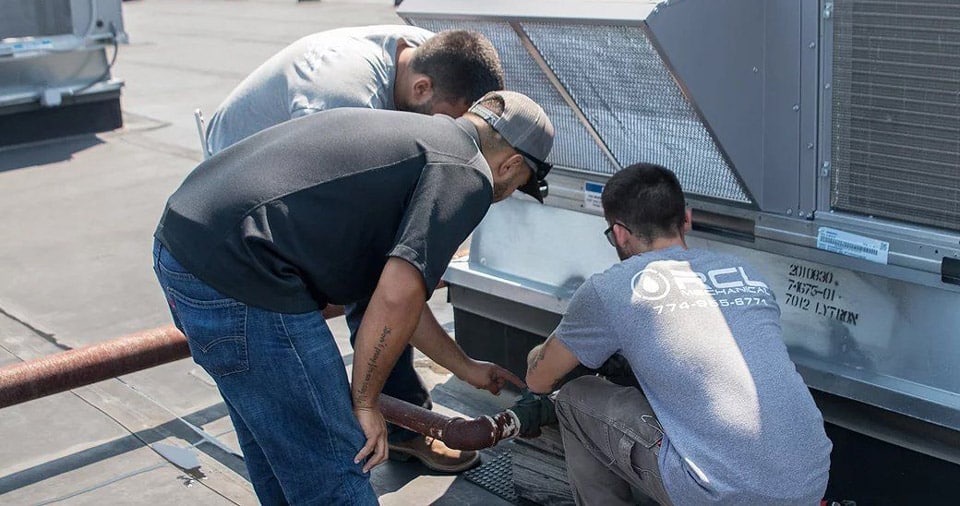 With expertise and quality workmanship, we ensure that you, your staff, and your business enjoy a healthy working environment. Our comprehensive range of services includes:
Commercial AC repair, installation, and service
Commercial heating repair, installation, and service
Commercial furnace repair, installation, and service
Working on a new project? We also offer new construction services for all your residential and commercial plumbing and HVAC needs. Contact us to learn more!
What Are the Signs Your Industrial HVAC System Needs Repairs?
When your commercial HVAC system works as it should, you keep customers comfortable and employees productive. Your HVAC equipment also experiences less wear and tear and costs less to run. Keep an eye out for the following clues that you need commercial HVAC repair:
Workers complain about discomfort
Too much moisture
Unpleasant odors
Poor airflow
High energy bills
Short cycling
At RCL Mechanical, we have decades of experience in the HVAC industry. Our certified technicians are familiar with all the signs that an HVAC system needs service and how to address them.
We proudly serve:
Convenience & Department Stores
Restaurant & Dining Spaces
Warehouses
Grocery Stores
Recreation Centers
Schools
Office Buildings
Retail & Office Buildings
Multi-Family Residential Buildings
Medical Facilities & Doctor's Offices
What Benefits Does a New Commercial HVAC Installation Have for Your Business?
Your commercial HVAC system is responsible for energy efficiency, office comfort, and a significant portion of your power bills. Upgrading your old HVAC system or investing in a new one will benefit you and your business in many ways, including:
Better energy efficiency
Increased comfort
Improved employee health
Easy maintenance and repair
Less carbon footprint
Need help choosing a new AC for your home? Reach out to our experts to discuss your commercial air conditioning installation and replacement needs.
24-Hour Emergency Services
With 24-hour emergency service, our technicians arrive on time and work quickly to restore your comfort while minimizing disruption to your workplace. When you call us for emergency repairs, our team will quickly diagnose the issue and offer robust HVAC solutions to keep you back up and running as soon as possible.
Your comfort is our top priority, and our team will go above and beyond to make sure that you stay comfortable.